Cogeneration is a mature technology, which can make an important contribution in terms of environmental benefits and energy savings. The technical convenience and economic feasibility of a plant depend above all on the ability to fully exploit the heat and electricity produced from a single source. The electricity produced with the cogenerator can be obtained by feeding the plant with fossil sources (natural gas, diesel, petrol) or with renewable sources (vegetable oil, biogas, woody biomass).
The most common configuration of a cogenerator involves the integration between an engine, connected to an electric generator, and a heat recovery system. In other words, a cogenerator can be seen as a generator which, instead of producing only electricity, also recovers the heat generated, thus increasing the overall efficiency.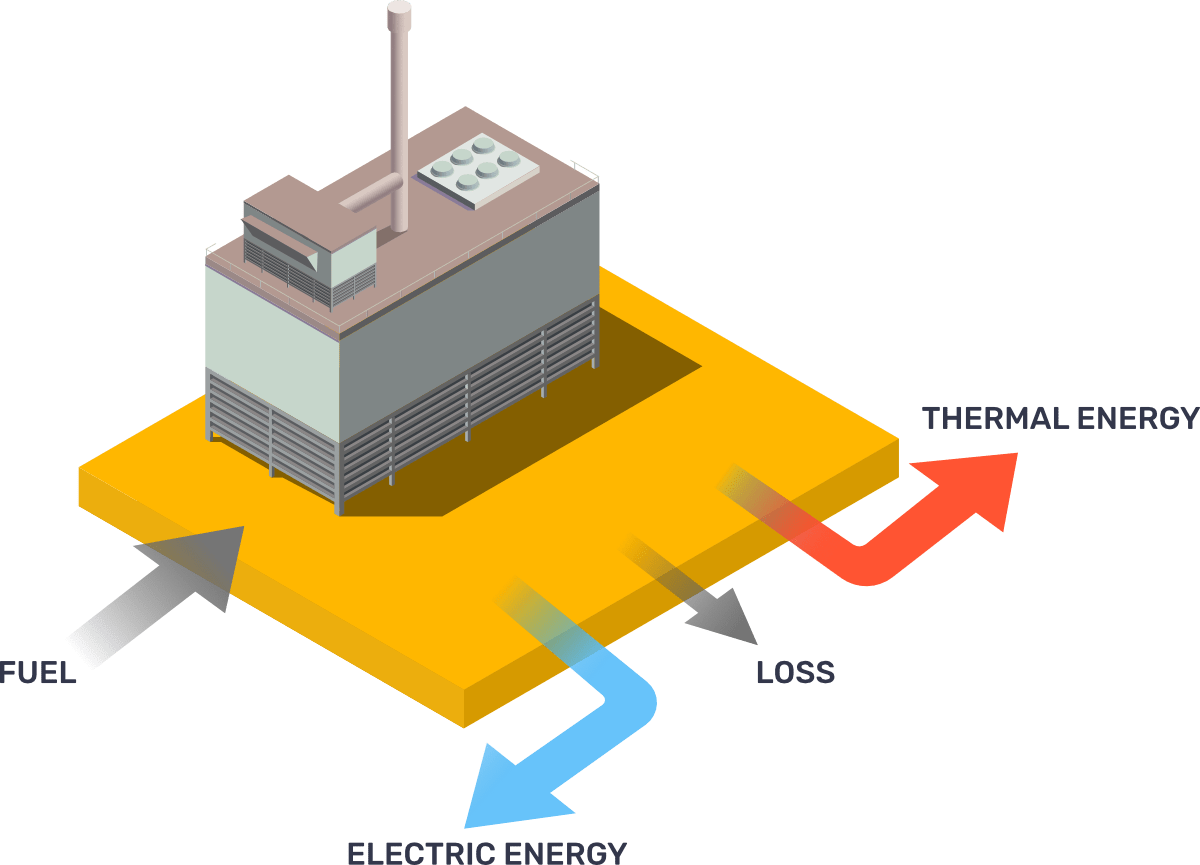 THE ENERGY RESULTS OBTAINED FROM COGENERATION
In terms of efficiency, a cogeneration plant has average overall yields of around 80-90%. Compared to the separate production of heat and electricity, the increase in efficiency is approximately 30-40%.
The diagram reproduced below represents a realistic example of the possible energy advantages of cogeneration. Starting from 100 primary energy units, that is fuel, a cogeneration plant can obtain 38 of electricity (in yellow) and 45 of useful heat (in blue), while the losses (in gray) are 17 units.
To obtain the same results with separate production, 148 units of fuel would be needed. It follows that:
cogeneration gives primary energy savings compared to separate production, therefore, in this case, it ensures fuel savings of 33% compared to separate production of thermal and electrical energy.
It can be seen how the losses, in the case of separate production, are mainly attributable to traditional electricity production plants, in which on average almost half of the energy contained in the incoming fuel leaves the chimney (when it is produced) and from copper wires (when carried) in the form of electricity.
THE ECONOMIC ADVANTAGES
Evaluating the economic convenience and technical feasibility of a cogeneration plant means having to consider a series of variables, often complex.
In summary we can say that, compared to all other types of systems (boilers, photovoltaic systems, solar thermal, etc.), cogenerators have a substantial peculiarity: electricity and heat are produced simultaneously and must therefore find an adequate use.
Request informations
Skills & Services
Innovation for energy and the environment.
In each project we combine the engineering, technical and technological skills of all the member companies.
A Project Manager takes care of all phases of the project: from the initial feasibility study to installation, up to providing a turnkey system, perfectly tested and complete with staff training services and after-sales assistance.
Services
Request information
Contact
ADDRESS
B E E S GROUP DWC - LLC
Business Center
Dubai World Central
P.O.Box: 390667, Dubai,
U.A.E. License n. 9690
PHONE
+39 ‭334 8520446‬