By means of a heat exchanger, the heat is transferred from the primary circuit to the process heat circuit in the form of hot water, air flow or steam, depending on the requirements of the industrial process.
The system may incorporate a heat storage unit. This unit can be used to increase the period of the day when heat is supplied to compensate for variations of the solar resource, but also to even out the fluctuating heat demand at batch processes.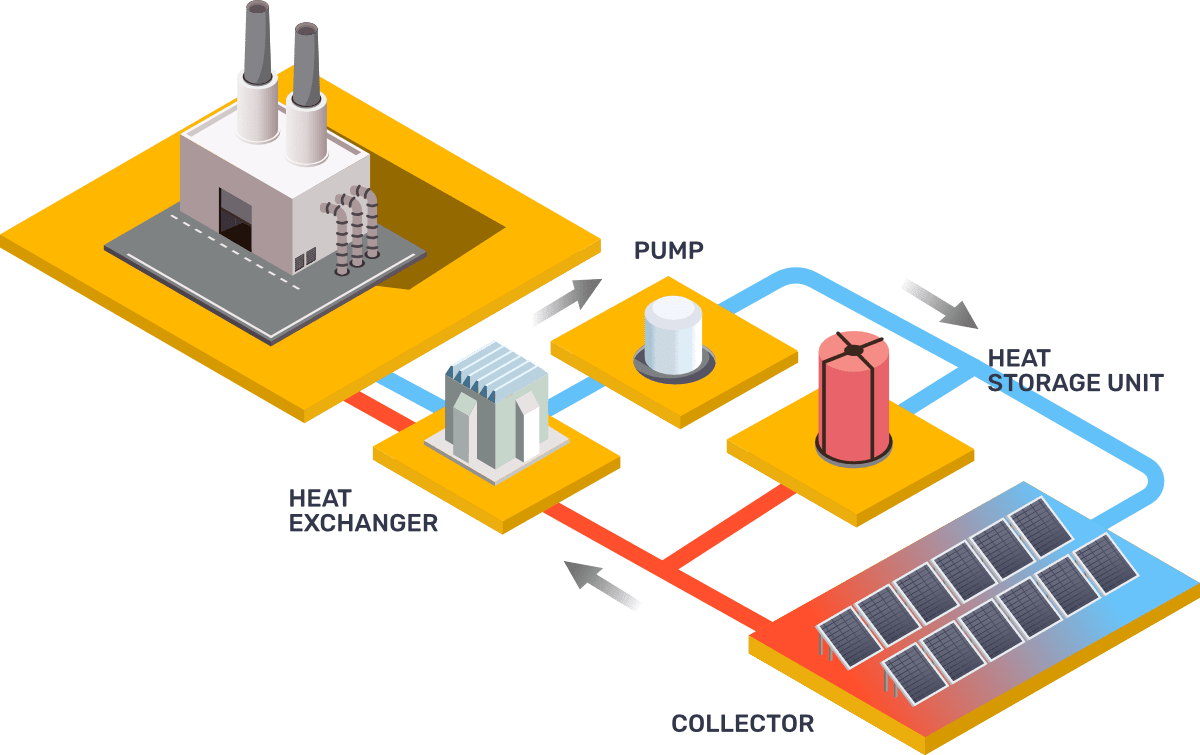 DESCRIPTION OF USE
While some industrial processes require very high temperatures, most of the energy needed for industrial processes requires low or medium-temperature heat.
Industrial processes can use low temperature for washing or dyeing textiles. The dairy sector uses heat for washing and pasteurization. Other industries, such as mining, can use it for leaching. Therefore, the use of low temperature heat in industrial processes can be widely diverse. The biggest potential is seen in the food and beverage industry but also in the metal and mining sector.
WORLDWIDE APPLICABILITY
These systems are applicable worldwide. They are naturally very well suited for regions with higher solar irradiation, although there are already systems installed in colder climates, e.g. in Europe and in the United States. In colder climates, where usually energy costs are higher, these systems are more competitive.
BENEFITS
The benefits of solar thermal systems, in particular for such large systems, cover environmental, political and economic aspects.
Environmental benefits stem from the capacity to reduce harmful emissions. The reduction of CO2 emissions depends on the quantity of fossil fuels replaced directly or indirectly, i.e. when the system replaces the use of carbon-based electricity used for water heating. Depending on the location, a 1.4 MWth (2000 m2) system could generate the equivalent of 1.1 MWhth /year, a saving of around 175 Mt of CO2 .
Request informations
Skills & Services
Innovation for energy and the environment.
In each project we combine the engineering, technical and technological skills of all the member companies.
A Project Manager takes care of all phases of the project: from the initial feasibility study to installation, up to providing a turnkey system, perfectly tested and complete with staff training services and after-sales assistance.
Services
Request information
Contact
ADDRESS
B E E S GROUP DWC - LLC
Business Center
Dubai World Central
P.O.Box: 390667, Dubai,
U.A.E. License n. 9690
PHONE
+39 ‭334 8520446‬