Natural gas-fired power plants, new or old, often operate at temperatures and altitudes above ISO conditions, thereby losing up to 30% of the power plant output.
Operating above sea level has a more drastic reduction, reducing production by approximately 3.3-3.6% for every 1,000 feet of height! This means less revenue and profits.
This applies to both simple and combined cycle plants. Air cooling of the turbine inlet and its benefits are well proven in the market. We are the industry leader in turbine inlet air cooling solutions using eco-friendly energy absorbing chillers.
The ambient temperature of the turbine inlet air and altitude affect the power generation output of the gas turbine, as shown in the graph below.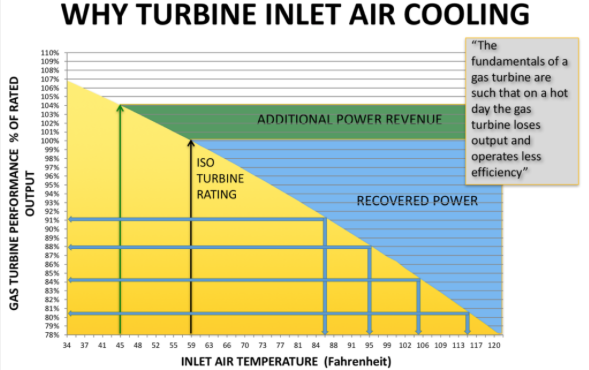 In a tropical or desert environment, the average temperature can range up to 100 degrees F and at peak it can rise up to 120 degrees F. The net output of the gas turbine is drastically reduced, as does the need for electricity spikes.
The solution to this problem is to cool the air entering the gas turbine to increase the return power and even beyond the ISO specific performance, thus improving operational efficiency and reducing carbon emissions. Cooling air with refrigeration systems can cool the incoming air to a temperature below the wet bulb temperature and is the most effective method of maintaining ISO design conditions.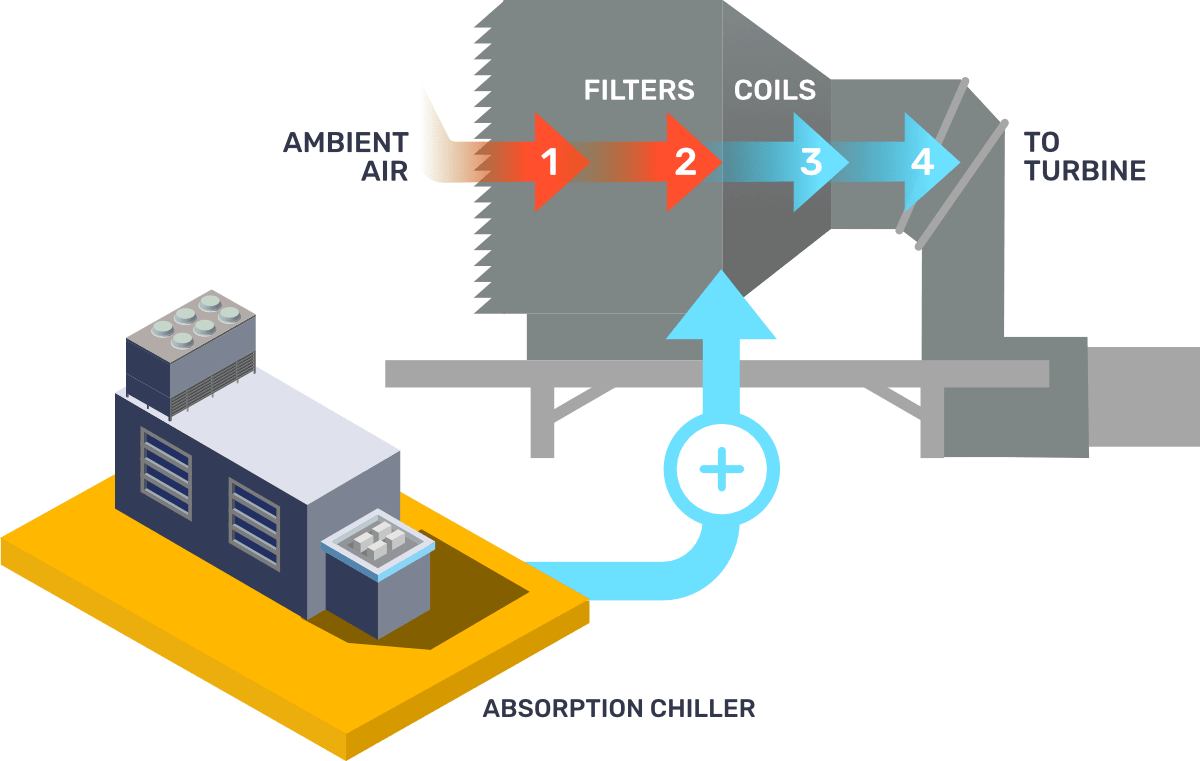 TIAC o NEW POWER PLANT?
Adding Turbine Inlet Air Cooling (TIAC) to your existing plant will ensure constant kW production and income without the need to oversize and / or develop additional capacity. Furthermore, TIAC applied to existing plants compared to the installation of new power plants, has the added advantage of reviewing less regulators (EPA, etc.).
Request informations
Skills & Services
Innovation for energy and the environment.
In each project we combine the engineering, technical and technological skills of all the member companies.
A Project Manager takes care of all phases of the project: from the initial feasibility study to installation, up to providing a turnkey system, perfectly tested and complete with staff training services and after-sales assistance.
Services
Request information
Contact
ADDRESS
B E E S GROUP DWC - LLC
Business Center
Dubai World Central
P.O.Box: 390667, Dubai,
U.A.E. License n. 9690
PHONE
+39 ‭334 8520446‬