THE RANKINE CYCLE
The Rankine Cycle is a thermodynamic cycle that converts heat into work. The heat is supplied to a closed loop, which typically uses water as working fluid. The Rankine Cycle based on water provides approximately 85% of worldwide electricity production.
The Organic Rankine Cycle's principle is based on a turbogenerator working as a conventional steam turbine to transform thermal energy into mechanical energy and finally into electric energy through an electrical generator. Instead of generating steam from water, the ORC system vaporizes an organic fluid, characterized by a molecular mass higher than that of water, which leads to a slower rotation of the turbine, lower pressures and no erosion of the metal parts and blades.
The ORC turbogenerator uses medium-to-high-temperature thermal oil to preheat and vaporize a suitable organic working fluid in the evaporator (4>5). The organic fluid vapor rotates the turbine (5>6), which is directly coupled to the electric generator, resulting in clean, reliable electric power. The exhaust vapor flows through the regenerator (6>7), where it heats the organic liquid (2>3) and is then condensed in the condenser and cooled by the cooling circuit (7>8>1). The organic working fluid is then pumped (1>2) into the regenerator and evaporator, thus completing the closed-cycle operation.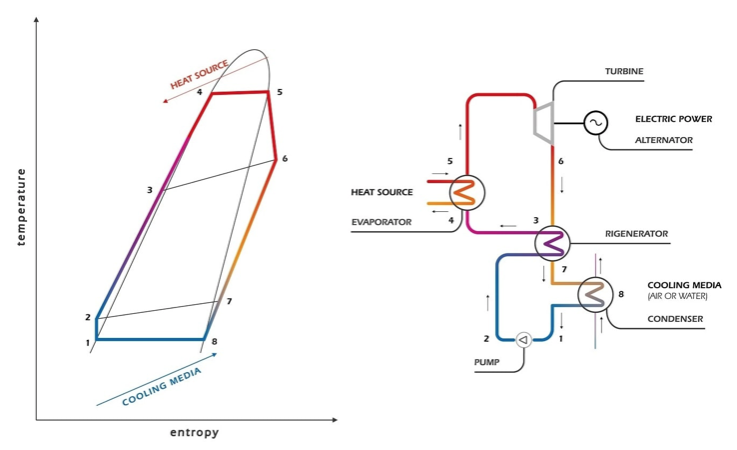 FEATURES
EASY TECHNOLOGY
Simple technical features

: low pressures involved, low speed turbine, limited number of stages of the turbine (≤6), self-lubricating fluids, no water required

Easy and cost-effective operation & maintenance: automatic operation (no qualified operator required), minimal maintenance activities, no major overhaul (turbine not subject to erosion and corrosion), fast start-stop procedures, no chemical and water treatments, low refiling of fluid required
Possibility to install the ORC unit in remote places, working efficiently
RELIABILITY
High availability (98% +)

Long life
FLEXIBILITY
Large range of sizes

from small to medium sizes (up to 20 MW per single shaft)

Different primary energy sources, from renewable energy (geothermal, solar, biomass) to energy efficiency (i.e. waste heat from industrial processes) to conventional fuels (natural gas, flare gas)
Different kind of heat carrier fluids: intermediate fluid (thermal oil, saturated steam, water) or directly from industrial smoke through a direct exchange
Large rangeability: different temperatures of the source (even below 100°C through selection of proper working fluid); partial load (the ORC system keeps high electrical efficiency even when operating with lower thermal power input, even 10% of the nominal one)
Cogeneration mode or power-only mode. In cogeneration, the thermal output can be hot water or steam
Ease of integration into pre-existing systems (i.e. in waste heat recovery from industrial processes)

Island mode capability
SUSTAINABILITY
Core system for

renewable energy and energy efficiency
Clean generation

of power and heat

Reduction of CO2 emissions (e.g. in heat recovery or in geothermal where the ORC system operates with zero emissions thanks to the reinjection)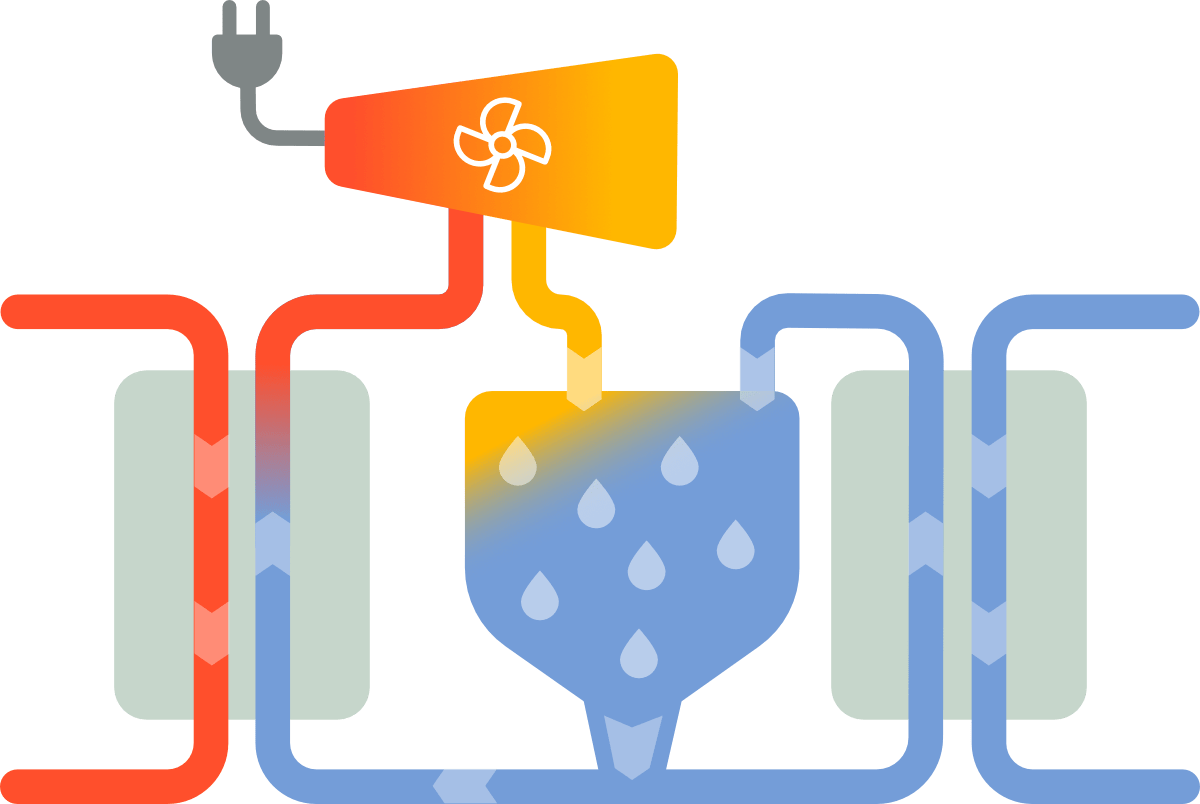 Request informations
Skills & Services
Innovation for energy and the environment.
In each project we combine the engineering, technical and technological skills of all the member companies.
A Project Manager takes care of all phases of the project: from the initial feasibility study to installation, up to providing a turnkey system, perfectly tested and complete with staff training services and after-sales assistance.
Services
Request information
Contact
ADDRESS
B E E S GROUP DWC - LLC
Business Center
Dubai World Central
P.O.Box: 390667, Dubai,
U.A.E. License n. 9690
PHONE
+39 ‭334 8520446‬